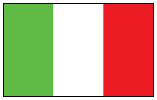 Country Details
---
Largest Cities
| City | Population |
| --- | --- |
| Milan | 1,306,661 |
| Naples | 988,972 |
| Rome | 2,563,241 |
Country Overview


ITALY
Located in Southern Europe, Italy is a peninsula extending into the central Mediterranean Sea, northeast of the North African country of Tunisia. The countries surrounding Italy in Europe include  Switzerland, Slovenia,  Austria, and France.  The countries San Marino and the Holy See (Vatican City)  are surrounded by Italy.
Italy became a nation-state in 1861 when Victor Emmanuel II, the king of Sardinia, united the regional states of the peninsula, along with Sardinia and Sicily.   By 1871, the  Italian nation state included the entire peninsula with Rome as the capital.
From 1870 until 1922, Italy was a constitutional monarchy with a parliament elected under limited suffrage. In 1922, Benito Mussolini came to power and established a fascist dictatorship, effectively ending the era of parlimanetary governance for a period.  Mussolini's alliance with Nazi Germany led to Italy's defeat in World War II.
A democratic republic replaced the monarchy in 1946 and economic revival followed. In face, since the end of World War II, the Italian economy has changed dramatically from agriculturally-based into industrialized. It is now one of the largest economies in the world and the fourth largest in Europe. Italy's overall economic structure is comparable to that of most other advanced OECD economies, with a small and diminishing agricultural sector and a large and growing services sector.
In the realm of regional relations, Italy became a charter member of NATO and the European Economic Community (EEC). It has been at the forefront of European economic and political unification, joining the Economic and Monetary Union in 1999.
Today, Italy must deal with persistent problems such as illegal immigration, organized crime, corruption, high unemployment, sluggish economic growth, and the low incomes and technical standards of southern Italy compared with the prosperous north.

Country Forecast
---
| | | | | | |
| --- | --- | --- | --- | --- | --- |
| | 2014 | 2015 | 2016 | 2017 | 2018 |
| Real Gross Domestic Product (LCU billions 2005 base) | 1542.922136 | 1555.015300 | 1568.685430 | 1592.328400 | 1610.225759 |
| Real GDP Growth Rate (%) | 0.114031 | 0.783783 | 0.879099 | 1.507183 | 1.123974 |
| Population, total (million) | 60.783000 | 60.796000 | 60.666000 | 60.760000 | 60.756000 |
| Inflation, GDP Deflator (%) | 0.958546 | 0.666894 | 0.755091 | 0.342356 | 1.111433 |
| Official Exchange Rate (LCU/$US) | 0.752534 | 0.901205 | 0.903661 | 0.886691 | 0.850053 |
| Total Foreign Exchange Reserves ($US billions) | 142.756539 | 130.592428 | 135.133271 | 143.241072 | 157.577965 |
Key Data
---
| | |
| --- | --- |
| Region : | Europe |
| Population : | 62,137,800 (as of 2017) |
| Capital : | Rome |

| | |
| --- | --- |
| Area Total : | 301230 km2 |
| Area Land : | 294020 km2 |
| Coast Line : | 7600 km |

| | |
| --- | --- |
| Climate : | Predominantly Mediterranean; Alpine in far north; hot, dry in south. |
| Languages : | Italian (official); German, French, Slovene and several other languages also spoken in Italy |
| Currency : | 1 Euro = 100 cents |
| Holiday : | Anniversary of the Republic is 2 June (1946), Liberation Day (WWII) is 25 April |
Average Daily Temperature
| | |
| --- | --- |
| January : | 42.20°F |
| July : | 72.20°F |
| Annual Rainfall : | 30.4" |
| | |
Ethnic Divisions
| | |
| --- | --- |
| Italian | 95.00 % |
| German | 1.00 % |
| French | 0.50 % |
| Albania | 0.50 % |
| Slovenian | 0.50 % |
| Greek | 0.50 % |
Religions
| | |
| --- | --- |
| Roman Catholic | 98.00 % |
| Other (includes Protestant, Jewish and Muslim communities) | 2.00 % |
Country Indexes
Select index to view full results