Honduras : Country Review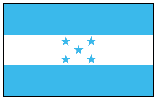 Country Details
---
Largest Cities
| City | Population |
| --- | --- |
| Choloma | 139,100 |
| San Pedro Sula | 489,466 |
| Tegucigalpa | 850,848 |
Country Overview

HONDURAS

Honduras is a country in Central America, bordering the Caribbean Sea, between Guatemala and Nicaragua. It became a Spanish colony in the early 1500s and gained independence in 1821. The country was under the rule of dictatorship from 1933 to 1948. The following decades saw civilian governments alternating with military coups and rule until 1982 when an elected civilian government came to power.

Honduras has been governed by democratically elected civilian governments since then, but in June 2009 the country saw the first military coup in almost three decades that ousted President Manual Zelaya. The international community condemned the coup and called for Zelaya's reinstatement, but months of mediation and talks failed to reverse the coup and restore Zelaya. Porfirio Lobo Sosa won a November 2009 presidential election organized by the interim authorities which took over following the ouster of President Manuel Zelaya. Mr Lobo was sworn into office in January 2010. He was succeeded in 2013 by Juan Orlando Hernandez.

Military rule, corruption, a huge wealth gap, crime and natural disasters have rendered Honduras one of the poorest and least developed countries in Central America. Until the mid-20th century Honduras' economy was dominated by U.S.-owned banana plantations. Still a major exporter of the fruit, Honduras is also Central America's second biggest coffee producer. Honduras has developed its textile industry to diversify away from dependence on agriculture.
Country Forecast
---
| | | | | | |
| --- | --- | --- | --- | --- | --- |
| | 2014 | 2015 | 2016 | 2017 | 2018 |
| Real Gross Domestic Product (LCU billions 2005 base) | 183.066805 | 189.731805 | 196.579753 | 204.442949 | 211.802863 |
| Real GDP Growth Rate (%) | 3.058014 | 3.640747 | 3.609277 | 4.000002 | 3.599984 |
| Population, total (million) | 7.962000 | 8.075000 | 8.190000 | 8.307000 | 8.425000 |
| Inflation, GDP Deflator (%) | 6.849424 | 6.446556 | 3.670767 | 5.863313 | 3.822387 |
| Official Exchange Rate (LCU/$US) | 21.060214 | 22.067248 | 22.995240 | 23.856846 | 24.694423 |
| Total Foreign Exchange Reserves ($US billions) | 3.455883 | 3.752072 | 3.811123 | 3.451394 | 3.544106 |
Key Data
---
| | |
| --- | --- |
| Region : | Central America |
| Population : | 9,038,741 (as of 2017) |
| Capital : | Tegucigalpa |

| | |
| --- | --- |
| Area Total : | 112090 km2 |
| Area Land : | 111890 km2 |
| Coast Line : | 820 km |

Climate :
subtropical in lowlands; temperate in mountains
Languages :
Spanish
Indigenous dialects
Currency :
1 lempira (L) = 100 centavos
Holiday :
Independence Day is15 September (1821), Morazan Day is 3 October, Armed Forces Day is 21 October
Average Daily Temperature
| | |
| --- | --- |
| January : | 75.10°F |
| July : | 79.10°F |
| Annual Rainfall : | 73.4" |
| | |
Ethnic Divisions
| | |
| --- | --- |
| Mestizo | 90.00 % |
| Indigenous | 7.00 % |
| African descent | 2.00 % |
| European descent | 1.00 % |
Religions
| | |
| --- | --- |
| Roman Catholic | 97.00 % |
| Protestant | 3.00 % |
Country Indexes
Select index to view full results