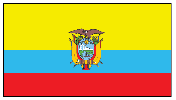 Country Details
---
Largest Cities
| City | Population |
| --- | --- |
| Cuenca | 276,964 |
| Guayaquil | 1,952,029 |
| Quito | 1,399,814 |
Country Overview
ECUADOR

What is now Ecuador formed part of the northern Inca Empire until the Spanish arrived and gained control in the 1530s. After Spain lost control of Ecuador in 1822, Ecuador joined Simon Bolivar's Republic of Gran Colombia, only to become a separate republic in 1830.

The years following independence were marked by instability with a rapid succession of rulers, including a coup in 1925. Following World War II, agricultural development brought prosperity and peace, and the country enjoyed a decade of stability and democracy. However, political turbulence returned in the 1960s, followed by a period of military dictatorship between 1972 and 1979. The 1980s and the beginning of the 1990s saw a period of democracy, but instability returned with three presidents having been ousted since 1997.

In September 2008, voters approved a new constitution - Ecuador's twentieth since gaining independence. The new constitutional framework enabled President Correa (in power since 2007) to win a second term in April 2009, and a third term in 2013.

Endowed with substantial petroleum resources, Ecuador's economy is dominated by the oil industry, but the economy is vulnerable to external shocks such as fluctuations in world oil prices and other commodity prices.
Country Forecast
---
| | | | | | |
| --- | --- | --- | --- | --- | --- |
| | 2014 | 2015 | 2016 | 2017 | 2018 |
| Real Gross Domestic Product (LCU billions 2005 base) | 70.243129 | 70.353822 | 69.321480 | 69.459828 | 69.854038 |
| Real GDP Growth Rate (%) | 3.993136 | 0.157585 | -1.467357 | 0.199574 | 0.567536 |
| Population, total (million) | 16.027000 | 16.279000 | 16.529000 | 16.777000 | 17.023000 |
| Inflation, GDP Deflator (%) | 3.400384 | -2.222130 | -0.916496 | 0.590424 | 0.557364 |
| Official Exchange Rate (LCU/$US) | 1.000002 | 0.999998 | 1.000002 | 1.000000 | 1.000000 |
| Total Foreign Exchange Reserves ($US billions) | 3.941357 | 2.487276 | 4.215553 | 3.096361 | 3.257847 |
Key Data
---
| | |
| --- | --- |
| Region : | South America |
| Population : | 16,290,913 (as of 2017) |
| Capital : | Quito |

| | |
| --- | --- |
| Area Total : | 283560 km2 |
| Area Land : | 276840 km2 |
| Coast Line : | 2010 km |

| | |
| --- | --- |
| Climate : | Tropical along coast, becoming cooler inland |
| Languages : | Spanish (official), Indian languages |
| Currency : | 1 dollar ($) = 100 cents |
| Holiday : | Independence Day is 10 August (1809), Simon Bolivar Day is 24 July |
Average Daily Temperature
| | |
| --- | --- |
| January : | 68.60°F |
| July : | 65.70°F |
| Annual Rainfall : | 40.8" |
| | |
Ethnic Divisions
| | |
| --- | --- |
| mestizo | 65.00 % |
| Indigenous | 25.00 % |
| Spanish and other | 7.00 % |
| African descent | 3.00 % |
Religions
| | |
| --- | --- |
| Roman Catholic | 95.00 % |
| Other | 5.00 % |
Country Indexes
Select index to view full results