Bosnia-Herzegovina : Country Review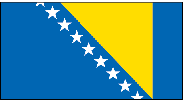 Country Details
---
Largest Cities
| City | Population |
| --- | --- |
| Banja Luka | 221,106 |
| Sarajevo | 696,731 |
| Zenica | 164,423 |
Country Overview
BOSNIA AND HERZEGOVINA

The three main ethnic groups in present-day Bosnia and Herzegovina are Bosniaks (Bosnian Muslims), Croats and Serbs. After World War II, Bosnia and Herzegovina became a republic within the Yugoslav Socialist Federation. Following the collapse of communism in Eastern Europe, Bosnia and Herzegovina declared independence from the former Yugoslavia in early 1992 after a referendum boycotted by ethnic Serbs.

A war broke out as the Bosnian Serbs - supported by neighboring Serbia and Montenegro - responded with armed resistance aimed at partitioning the republic along ethnic lines and joining Serb-held areas to form a "Greater Serbia."

In November 1995, in Dayton, Ohio, the warring parties initialed a peace agreement that brought to a halt three years of interethnic civil strife (the final agreement was signed in Paris in December 1995). The High Representative was appointed by the UN Security Council, responsible for implementation of the peace agreement. International administration, backed at first by NATO forces and later by a smaller European Union-led peacekeeping force, has helped the country consolidate stability.

Based on the 1995 Dayton Peace accord, Bosnia and Herzegovina today consists of two Entities--the Federation of Bosnia and Herzegovina which is largely Bosniak and Croat, and the Bosnian Serb Republic, or Republika Srpska, which is primarily Serb. Before independence, Bosnia and Herzegovina ranked alongside Macedonia as the poorest republic in the former Yugoslav Federation.

Three years of interethnic war following independence caused extensive destruction of physical infrastructure and a sharp economic decline, but Bosnia and Herzegovina has made impressive progress in economic recovery since the end of the interethnic war.
Country Forecast
---
| | | | | | |
| --- | --- | --- | --- | --- | --- |
| | 2015 | 2016 | 2017 | 2018 | 2019 |
| Real Gross Domestic Product (LCU billions 2005 base) | 27.016346 | 27.553261 | 28.242635 | 28.976212 | 29.758467 |
| Real GDP Growth Rate (%) | 3.015782 | 1.987370 | 2.501968 | 2.597409 | 2.699643 |
| Population, total (million) | 3.863000 | 3.854000 | 3.845000 | 3.837000 | 3.831000 |
| Inflation, GDP Deflator (%) | 1.403269 | 0.652616 | 2.546487 | 1.306781 | 1.635958 |
| Official Exchange Rate (LCU/$US) | 1.763478 | 1.767213 | 1.762960 | 1.723491 | 1.716834 |
| Total Foreign Exchange Reserves ($US billions) | 4.790984 | 5.136418 | 4.874464 | 5.361035 | 5.730508 |
Key Data
---
| | |
| --- | --- |
| Region : | Eastern Europe |
| Population : | 4,610,730 (as of 2017) |
| Capital : | Sarajevo |

| | |
| --- | --- |
| Area Total : | 51233 km2 |
| Area Land : | 51233 km2 |
| Coast Line : | 20 km |

| | |
| --- | --- |
| Climate : | Hot summers and cold winters; areas of high elevation have short, cool summers and long, severe winters; mild, rainy winters along coast. |
| Languages : | Bosnian, Croatian, Serbian |
| Currency : | 1 konvertible marka = 100 pfenings |
| Holiday : | Independence Day is 1 March, National Day is 25 November |
Average Daily Temperature
| | |
| --- | --- |
| January : | 32.40°F |
| July : | 67.80°F |
| Annual Rainfall : | 41.8" |
| | |
Ethnic Divisions
| | |
| --- | --- |
| Bosniak | 44.00 % |
| Serb | 31.00 % |
| Croat | 17.00 % |
| Yugoslav | 6.00 % |
| Other | 2.00 % |
| Other | 2.00 % |
Religions
| | |
| --- | --- |
| Muslim | 40.00 % |
| Orthodox | 31.00 % |
| Roman Catholic | 15.00 % |
| Other | 10.00 % |
| Protestant | 4.00 % |
Country Indexes
Select index to view full results