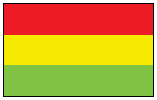 Country Details
---
Largest Cities
| City | Population |
| --- | --- |
| Cochabamba | 900,414 |
| Santa Cruz | 1,364,389 |
| Sucre | 224,838 |
Country Overview
BOLIVIA

Located in the heart of South America, Bolivia gained its independence from the Spanish rule in 1825. But for years after independence the country saw political instability with a series of coups and countercoups, until democratic civilian rule was established in 1982. However, the country as of late has been facing the difficult problems of poverty, social unrest, and illegal drug production. Bolivia has the second-largest reserves of natural gas in South America, but there have been long-running tensions over the exploitation and export of the resource, which underlie recurring political crises.

In December 2005, Bolivians elected Movement Toward Socialism leader Evo Morales president. President Morales (ratified by recall referendum in 2008; re-elected in 2009 and again in 2014) has since worked to fulfill his campaign promises. In May 2006, the government issued a decree putting the energy industry under state control. Bolivia underwent further radical change in January 2009 when voters backed President Morales' project for a new constitution giving greater rights to the indigenous majority population in the face of strong opposition from the wealthy elites and the resource-rich eastern provinces.

Though rich in mineral and energy resources, Bolivia is one of South America's poorest countries, and there are regional disparities in wealth distribution.
Country Forecast
---
| | | | | | |
| --- | --- | --- | --- | --- | --- |
| | 2014 | 2015 | 2016 | 2017 | 2018 |
| Real Gross Domestic Product (LCU billions 2005 base) | 40.588173 | 42.559602 | 44.374281 | 46.238023 | 48.087554 |
| Real GDP Growth Rate (%) | 5.460533 | 4.857150 | 4.263853 | 4.200048 | 4.000023 |
| Population, total (million) | 10.562000 | 10.725000 | 10.896000 | 11.071000 | 11.248000 |
| Inflation, GDP Deflator (%) | 2.049532 | -4.620568 | -1.746383 | 6.461184 | 4.438219 |
| Official Exchange Rate (LCU/$US) | 6.859934 | 6.859943 | 6.859959 | 6.859937 | 6.860053 |
| Total Foreign Exchange Reserves ($US billions) | 15.129278 | 13.049620 | 10.053627 | 14.920053 | 16.106554 |
Key Data
---
| | |
| --- | --- |
| Region : | South America |
| Population : | 11,138,234 ( as of 2017) |
| Capital : | La Paz |

| | |
| --- | --- |
| Area Total : | 1098580 km2 |
| Area Land : | 1084390 km2 |
| Coast Line : | 0 km |

Climate :
Varies with altitude; humid and tropical to cold and semiarid.
Languages :
Spanish (official)
Quechua (official)
Aymara (official)
Currency :
1 boliviano (B$) = 100 centavos
Holiday :
Independence Day is 6 August (1825)
Average Daily Temperature
| | |
| --- | --- |
| January : | 66.10°F |
| July : | 57.10°F |
| Annual Rainfall : | 33.6" |
| | |
Ethnic Divisions
| | |
| --- | --- |
| Mestizo | 30.00 % |
| Quechua | 30.00 % |
| Aymara | 25.00 % |
| White | 15.00 % |
Religions
| | |
| --- | --- |
| Roman Catholic | 95.00 % |
| Protestant | 5.00 % |
Country Indexes
Select index to view full results