Venezuela : Country Review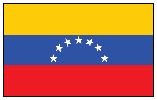 Country Details
---
Largest Cities
| City | Population |
| --- | --- |
| Caracas | 3,000,000 |
| Maracaibo | 2,225,000 |
| Maracay | 1,754,256 |
Country Overview

VENEZUELA

Venezuela is located in northern South America, bordering the Caribbean Sea and the North Atlantic Ocean. The area became a Spanish colony in the 1520s. In 1830 Venezuela seceded from Gran Colombia (including the present-day Colombia, Panama, and Ecuador) and became an independent republic. Much of Venezuela's 19th-century history was characterized by periods of political instability, dictatorial rule, and revolutionary turbulence, followed by a succession of dictators in the first half of the 20th century.

Venezuela's history of free and open elections since 1958, and its prohibition of military involvement in national politics earned the country a reputation as one of the more stable democracies in Latin America. However, two failed coups in 1992 broke the nation's pattern of 34 years of uncontested democracy.

Hugo Chavez became president in 1999 and sought to implement his "21st Century Socialism," which purports to alleviate social ills, while at the same time attacking capitalist globalization and existing democratic institutions. His policies have polarized domestic opinion, although he was able to consistently win the support of the majority of Venezuelans in elections. Controversial reform and deep divisions characterized his presidency. Chavez died in 2013 and was succeeded by his stalwart, Nicolas Maduro.

It should be noted that President Maduro has to be regarded as a somewhat inadequate successor to Chavez -- embracing most of the late Venezuelan leader's autocratic tendencies but lacking all of Chavez' charisma and charm. That perception was illustrated in the public's support with sruvey data from the reliable Datanalist polling group showing Maduro sporting dismal approval ratings of only 22 percent. With the price of oil at significant lows, and with oil revenue needed to support the Chavez-era social programs, there was little hope that support for Maduro would be easily revived.

Venezuela is a major oil producer, and its economy has been highly dependent on the petroleum sector. The economic policies characterized by expansion of the state-led development model, price and exchange rate controls, and the ongoing nationalization drive, will make Venezuela a challenging place for investment.
Country Forecast
---
| | | | | | |
| --- | --- | --- | --- | --- | --- |
| | 2014 | 2015 | 2016 | 2017 | 2018 |
| Real Gross Domestic Product (LCU billions 2005 base) | 59.810257 | 57.481014 | 50.480000 | 48.209000 | 46.762000 |
| Real GDP Growth Rate (%) | -3.894377 | -3.894386 | -12.179698 | -4.498811 | -3.001514 |
| Population, total (million) | 30.206000 | 30.620000 | 31.029000 | 31.431000 | 31.828000 |
| Inflation, GDP Deflator (%) | 40.440450 | 111.961195 | 447.010607 | 300.000000 | 100.000000 |
| Official Exchange Rate (LCU/$US) | 14.079415 | 23.741257 | 88.887490 | 360.755579 | 1045.976111 |
| Total Foreign Exchange Reserves ($US billions) | 21.454906 | 15.625328 | 50.519662 | 48.140115 | 31.330383 |
Key Data
---
| | |
| --- | --- |
| Region : | South America |
| Population : | 30,083,356 (as of 2017) |
| Capital : | Caracas |

| | |
| --- | --- |
| Area Total : | 912050 km2 |
| Area Land : | 882050 km2 |
| Coast Line : | 2800 km |

| | |
| --- | --- |
| Climate : | Tropical; hot, humid; more moderate in the highlands |
| Languages : | Spanish (official) |
| Currency : | 1 bolivar (Bs) = 100 centimos |
| Holiday : | Independence Day is 5 July (1811), Bolivar Day is 24 July, Mov. Precursor de la Independencia is 19 April |
Average Daily Temperature
| | |
| --- | --- |
| January : | 74.60°F |
| July : | 76.10°F |
| Annual Rainfall : | 43.9" |
| | |
Religions
| | |
| --- | --- |
| Nominally Roman Catholic | 96.00 % |
| Protestant | 2.00 % |
| Other | 2.00 % |
Country Indexes
Select index to view full results