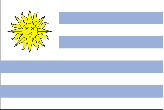 Country Details
---
Largest Cities
| City | Population |
| --- | --- |
| Montevideo | 1,270,737 |
| Paysandú | 73,249 |
| Salto | 99,823 |
Country Overview

URUGUAY

Uruguay is a country in South America, bordering the South Atlantic Ocean, between Argentina and Brazil. In the 1680s the Portuguese established the first European settlement, followed by a Spanish settlement in the 1720s.

By the 1770s Spain had gained control of the area, but in the 1820s Portugal once again came to power, annexing Uruguay to Brazil. Uruguay declared independence from Brazil in 1825 but decided to adhere to a regional federation with Argentina. The regional federation defeated Brazil after a three-year war, and in 1828 Uruguay became an independent state. The remainder of the 19th century saw the newly independent Uruguay undergoing a prolonged conflict between two political factions - the land-owning Blancos and the urban Colorados.

Political unrest resurfaced in the 1960s caused in part by economic depression, leading to the military rule of the country in 1973 until civilian rule was restored in 1985. The left-wing Broad Front coalition came to power in the 2004 elections, effectively ending 170 years of political control previously held by the Colorado and Blanco parties.

Former leftist guerrilla Jose Mujica who belongs to the Broad Front coalition won in the presidential elections in 2009. He was succeeded in 2014 by Tabare Vazquez, who would continue rule by the left-wing Broad Front.

Uruguay's economy is based on agriculture, services and light manufacturing, with a high dependence on export-oriented agriculture, especially livestock. But heavy dependence on livestock export, and extensive economic linkages to its larger neighbors and major trading partners – Argentina and Brazil -- made Uruguay vulnerable to adverse external shocks. Uruguay continues to recover from the severe economic recession in 2002 caused by recessions in Brazil and Argentina.
Country Forecast
---
| | | | | | |
| --- | --- | --- | --- | --- | --- |
| | 2014 | 2015 | 2016 | 2017 | 2018 |
| Real Gross Domestic Product (LCU billions 2005 base) | 667.791788 | 670.267684 | 680.008544 | 703.809945 | 725.627676 |
| Real GDP Growth Rate (%) | 3.238863 | 0.370758 | 1.453279 | 3.500161 | 3.099946 |
| Population, total (million) | 3.454000 | 3.467000 | 3.480000 | 3.493000 | 3.506000 |
| Inflation, GDP Deflator (%) | 9.372169 | 9.016261 | 7.048673 | 5.986736 | 5.927753 |
| Official Exchange Rate (LCU/$US) | 23.246005 | 27.327043 | 30.162439 | 28.779527 | 28.780566 |
| Total Foreign Exchange Reserves ($US billions) | 17.554715 | 15.633854 | 13.471668 | 13.018021 | 14.731019 |
Key Data
---
| | |
| --- | --- |
| Region : | South America |
| Population : | 3,360,148 (as of 2017) |
| Capital : | Montevideo |

| | |
| --- | --- |
| Area Total : | 176220 km2 |
| Area Land : | 173620 km2 |
| Coast Line : | 660 km |

Climate :
Warm temperate; freezing temperatures almost unknown
Languages :
Spanish
Portunon
Brazilero
Currency :
1 Uruguayan peso ($Ur) = 100 centesimos
Holiday :
Independence Day is 25 August (1828), Constitution Day is 18 July (1951)
Average Daily Temperature
| | |
| --- | --- |
| January : | 73.60°F |
| July : | 51.80°F |
| Annual Rainfall : | 44.8" |
| | |
Ethnic Divisions
| | |
| --- | --- |
| White | 88.00 % |
| Mestizo | 8.00 % |
| Black | 4.00 % |
Religions
| | |
| --- | --- |
| Roman Catholic | 66.00 % |
| Non-professing or other | 30.00 % |
| Protestant | 2.00 % |
| Jewish | 2.00 % |
Country Indexes
Select index to view full results