Nicaragua : Country Review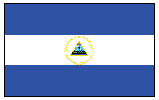 Country Details
---
Largest Cities
| City | Population |
| --- | --- |
| Leon | 144,538 |
| Managua | 973,087 |
| Masaya | 130,113 |
Country Overview

NICARAGUA

Nicaragua is a country in Central America, bordering both the Caribbean Sea and the North Pacific Ocean, between Costa Rica and Honduras. Nicaragua was ruled by Spain from the early 16th century until it became independent in 1821. In 1823 the former Spanish colonies of the region formed the Federation of Central America, but the union collapsed in 1838 and Nicaragua became an independent republic.

Much of Nicaragua's politics since independence has been characterized by the rivalry between the Liberal and the Conservative parties, which often led to civil war. Violent opposition to government control and corruption brought the Marxist Sandinista guerrillas to power in 1979. In response to both domestic and international pressure, the Sandinista regime entered into negotiations with the Nicaraguan resistance and agreed to nationwide elections in February 1990. Free elections in 1990, 1996, and 2001 saw the Sandinistas defeated, but former Sandinista leader Daniel Ortega made a comeback in the November 2006 presidential race. Never rich in the first place,

Nicaragua is striving to overcome the after-effects of dictatorship, civil war and natural disasters, all of which have made it the second-poorest country in the Western Hemisphere after Haiti. The new government under President Daniel Ortega taking office since January 2007 has shown willingness to maintain the market-oriented economic policies, and the country's infrastructure and economy are slowly being rebuilt.

Note that President Daniel Ortega was re-elected to power in 2011 and remains in power to date.
Country Forecast
---
| | | | | | |
| --- | --- | --- | --- | --- | --- |
| | 2014 | 2015 | 2016 | 2017 | 2018 |
| Real Gross Domestic Product (LCU billions 2005 base) | 162.351612 | 170.229695 | 178.234737 | 186.255222 | 194.264545 |
| Real GDP Growth Rate (%) | 4.785706 | 4.852482 | 4.702494 | 4.499956 | 4.300187 |
| Population, total (million) | 6.014000 | 6.082000 | 6.150000 | 6.221000 | 6.292000 |
| Inflation, GDP Deflator (%) | 8.392486 | 7.451042 | 4.084482 | 3.983036 | 7.163453 |
| Official Exchange Rate (LCU/$US) | 25.959858 | 27.256247 | 28.621427 | 30.051270 | 31.553893 |
| Total Foreign Exchange Reserves ($US billions) | 2.276177 | 2.492262 | 2.447771 | 2.433464 | 2.586384 |
Key Data
---
| | |
| --- | --- |
| Region : | Central America and the Carribean |
| Population : | 6,025,951 (as of 2017) |
| Capital : | Managua |

| | |
| --- | --- |
| Area Total : | 129494 km2 |
| Area Land : | 120254 km2 |
| Coast Line : | 910 km |

| | |
| --- | --- |
| Climate : | Tropical in lowlands, cooler in highlands |
| Languages : | Spanish (official) |
| Currency : | 1 gold cordoba (C$) = 100 centavos |
| Holiday : | Independence Day is 15 September (1821), Revolution Day is 19 July |
Average Daily Temperature
| | |
| --- | --- |
| January : | 77.40°F |
| July : | 79.20°F |
| Annual Rainfall : | 103.3" |
| | |
Ethnic Divisions
| | |
| --- | --- |
| mestizo | 69.00 % |
| European | 17.00 % |
| African | 9.00 % |
| Amerindian | 5.00 % |
Religions
| | |
| --- | --- |
| Roman Catholic | 85.00 % |
| Protestant | 15.00 % |
Country Indexes
Select index to view full results